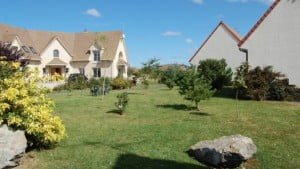 This is the meeting of sea and land, the meeting of Artois and the Flandres … This is in the delta of the Aa that has built history "countries watergangs " !
Land in the sea, is a rapid succession of

landscapes …
Beaches: With the spray of the sea and its natural protected area.
The country watergangs : you will be surprised by the strength of character of a flat landscape shaped by water and man … Water mastered sky mirrored in the canals, or whitewater of the Hem .. .
The Brédenarde: With the intimate atmosphere of small roads bordered by hedges of Bredenarde.
His present is written today steps from Calais, on the Côte d'Opale…
Bucolic atmosphere for these theme houses

.
Indeed, each house is decorated and furnished in a different style Therefore you can choose :
– The cottage called "Le campagne" and "Le provence" and "Le mer" from 7 to 10 people.
– A studio "Le jardinet" from 2 people
– The farm "Le marais" and "L'étang" from 4 to 7 people
Our accommodations are not subject to the tourist tax
Read More
Cet article est également disponible en : French